Dianne Whelan : producer, director, writer, adventurer
Dianne is an award-winning Canadian filmmaker, photographer, author and multimedia artist residing in Garden Bay, BC. With every project she tries to multi platforms the stories into films, books and interactive projects. In April 2010, Whelan traveled to Nepal and Mount Everest Base Camp to direct and shoot her award-winning documentary film 40 Days at Base Camp.
The film had its world premiere at the Vancouver International Film Festival and was the opening night film at the Banff Mountain Film Festival. She also wrote a book about it called Base Camp 40 Days on Everest about her experience living and making a film on the worlds highest mountain. The subject of her first book, This Vanishing Land, references her experience as an embedded media person on a historical Sovereignty Patrol in the Canadian High Arctic. Her National Film Board documentary, This Land, is based on the same journey and has won several awards, including Best Short Documentary at both the Planet in Focus Film Festival in Toronto and the 2010 Leo Awards for BC film and television. A multi-media web project on her Arctic journey was released in June 2010 and won Best Small Multimedia Site at the Online Journalism Awards and was nominated for best art at SXSW. The site was nominated for a 2011 Gemini award for Best Original Program or Series Produced for Digital Media – Non-Fiction.
Dianne's films, books and multimedia projects are based on adventures and the blending of traditional wisdom with modern cultures. To see more you can visit these links.
www.40daysatbasecamp.com
www.diannewhelan.com
www.nfb.ca/film/this_land
http://thisland.nfb.ca/#/thisland
Betsy Carson : producer
Betsy is an award-winning producer/ EP/ director with over 30 years' experience in documentary film, television, and digital projects. She has collaborated for decades with filmmakers Nettie Wild, Gary Marcuse, Hugh Brody and Mark Achbar, and has produced over 100 hours of documentary projects ranging from series television to theatrical features, interactive sites and public art installation. Currently in production: The New Corporation – a sequel to the groundbreaking 2003 feature documentary, and the Global Environmental Justice Project , directed and curated by Gary Marcuse.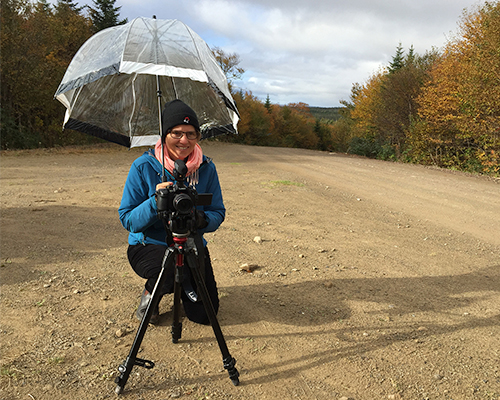 Ann Verrall: producer, co-director, co-writer
Ann joined the team in June 2015. What initially started out as an invitation to film for 3 days while Dianne was in Nova Scotia soon developed into becoming a co-producer. Ann has also been periodically meeting up with Dianne on the trail, bringing supplies, filming, directing, backig up any footage Dianne has collected, doing production management, logistics and keeping track of Dianne's progress.
Ann is a Halifax-based, award-winning media artist who's work spans gendres of drama, experiemental and documenty. A graduate of NSCAD University, Ann's films have been screened at festivals in Canada, USA, England and Australia, broadcast on CBC, Movieola, MTV Logo, Super Channel and screened on Air Canada. She has taught at NSCAD University and the University of Regina where she was the Filmmaker-in-Residence in 2009. Ann also does community-based video collaboration projects in Nova Scotia and Saskatchewan working in partnership with the Centre for Art Tapes in Halifax, cultural organizations in Regina, community groups and schools, as well as a team of professional artists from various disciplines – music, dance, theatre, visual arts and media arts. In 2011, Ann received the Vision and Accomplishment award from Women in Film & Television Atlantic.
www.shortworksproductions.ca
Shortworks YouTube Channel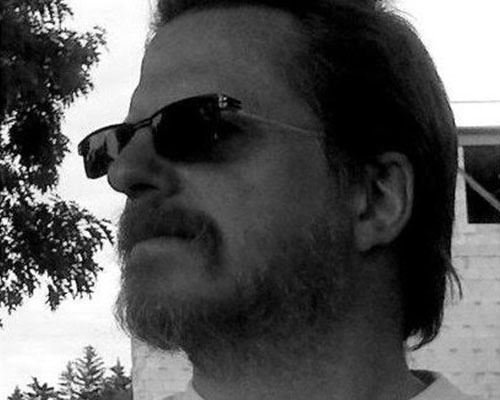 Nick Hector: Editor, Story Editor and Consultant
Nick Hector is a HotDocs and multi-Gemini, DGC and CCE Award winning Canadian film editor and Genie Award nominated producer. He has cut more than two dozen feature docs and 100 TV docs since 1986, many of which have garnered awards at international festivals. An inaugural member of the Canadian Cinema Editors honours society, Hector's work has been screened at TIFF, Sundance, The Museum of Modern Art, Berlin, The Smithsonian, RIDM, Silverdocs, Sheffield, Tehran, Tel Aviv, Buenos Aires, Jerusalem, Prague, Leipzig, Singapore, Phoenix, Montreal, Sydney, Palm Springs, HotDocs and many more.
Hector collaborated with legendary filmmaker Allan King and exclusively cut his films during the last decade of King's career. He won a Gemini for editing King's Top Ten Canadian Film and Gemini Award winning Dying at Grace which TIFF described as "one of the best films ever made in this country". Grace and Memory (another collaboration with King) have been added to the prestigious Criterion Collection.
In 1986 Hector began his career as the youngest editor in the 40-season history of CBC's current affairs flagship program The Fifth Estate. He went on to cut for The Journal, The Nature of Things, Gzowski & Co, Contact, W5, Marketplace, The National, and Nightline.
Hector focused on long form non-fiction in the early 90's and won the Hot Docs Best Editing Award for Yvan Patry's Hand of God in 1996. He received a Gemini in 1998 for his work on Patry's Hot Docs Best of Festival and Chalmers Award winner Chronique d'un genocide announce. In 2009, he won a Gemini for Sturla Gunnarsson's Air India 182, making him the only editor ever to be awarded three Gemini Awards for documentary editing. Hector edited Gunnarsson's Force of Nature in 2010 which won the People's Choice Award at TIFF, the CCE Award for Best Doc Editing and the DGC Award for Excellence in Documentary. Hector won his 2nd CCE award in 2012 for Sun Kyung Yi's Echoes. In 2015, he edited Avi Lewis's adaptation of the Naomi Klein best seller This Changes Everything.
Some of Hector's other numerous credits include Matt Gallagher's Cinematheque Ontario selection The Rise and Fall of the Grumpy Burger, David York's Genie nominated Wiebo's War, Tim Southam's Genie nominated Drowning in Dreams, John Haslett Cuff's Gemini Award winning Crimes of the Heart, Min Sook Lee's HotDocs Best Canadian Feature Hogtown and Gunnarsson's TIFF Canadian Top Ten Audience Award winner Monsoon.
Hector was a co-producer for the documentaries Wiebo's War, Thay, War Surgeon, Actuality and El Chogui. He was series producer for Birth Stories and Love is Not Enough, and co-director and story editor of the CSA Award winning series War Story. Hector also serves as a film consultant and educator.
Nick is a member of the Directors Guild of Canada and the Canadian Cinema Editors honours society. He is a citizen of both Canada and Britain.

Lindsay Dobbin: Soundscape Artist/Musician
Lindsay began collaborating with Dianne and Ann by providing the haunting soundtrack for Sisters (video). Now Lindsay is creating soundscape elements for 500 Days in the Wild.
Lindsay Dobbin is a mixed Indigenous (Mohawk) / Settler (English, Acadian, Irish, Dutch) artist, musician, curator and educator who lives and works on the Bay of Fundy, Canada. Born in and belonging to the Kennebecasis River Valley in New Brunswick, Dobbin has lived throughout the Maritimes as well as the Yukon Territory. As a person of mixed Indigenous ancestry, Dobbin seeks to embody what it means to respect Indigenous understandings and engage in self-reflective processes of decolonization and reconciliation. Dobbin's ecocentric, place-responsive practice includes media art, performance, sculpture, installation, social practices and writing, and is invested in and influenced by Indigenous epistemologies and cultural practices, such as drumming. Through placing listening, collaboration and improvisation at the centre of the creative process, Dobbin's practice explores the connection between the environment and the body, and
engages in a sensorial intimacy with the living land — illuminating the natural world as agent, witness and teacher. The aim of their work is to not impose a vision, but to work in a way that is collaborative, allowing the voice of the environment and materials to speak. As a passionate educator, Dobbin employs traditional and contemporary
land-based practices, creativity, play and improvisation as tools for self-awareness, collaboration, experiential learning and community building — revealing that people and the environment are related in dynamic and living ways. Beyond their solo creative practice, Dobbin is also an active artistic collaborator, and have worked on projects with musicians, sound artists, dancers, visual artists and filmmakers.
They are currently working with the Quiver Artist Collective on a series of collaborative, community-based media art projects throughout Canada that bring together Indigenous and Settler artists. Dobbin's work has been presented and reviewed nationally and internationally, and they have received both provincial and federal grants. They are
presently learning the techniques and cultural protocols involved in traditional drum making and keeping with support from the Canada Council for the Arts Aboriginal/Inuit Traditional Visual Art Forms Program.